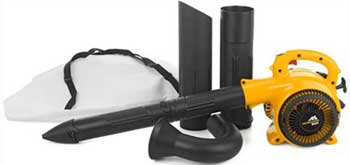 McCulloch Blower/Vac
GBV 325 (RRP Ģ149.99)
Efficient multi-function blower, 320 km/h blowing power – ideal for work such as clearing grass cuttings, leaves and litter. 3 in 1: blower, vacuum and mulcher. Quick and easy to start with fuel pump and intuitive controls. Equipped with easy to change tube attachment. Includes flare nozzle for increased blowing power.

SPECIFICATION
• Cylinder displacement - 25 cmģ
• Power output - 0,75 kW
• Fuel tank volume - 0,54 lit
• Spark plug - Champion RCJ6Y
• Air flow in housing - 12,16 mģ/min
• Air speed - 89,4 m/s
• Mulch ratio - 10:1
• OEM Nozzle type - Flat
• OEM Vacuum Kit - Yes
• Equivalent vibration level (ahv, eq) handle - 10,1 m/sē
• Sound pressure level at operators ear - 96,7 dB(A)
• Sound power level, guaranteed (LWA) - 108 dB(A)
• Weight - 4,25 kg
• Vac bag capacity - 45 lit

KEY FEATURES
• Flare nozzle - For concentrated and increased blowing power.
• Easy to attach tube - For quick assembly and simple storage.